ABOUT US | Chairman's Message
Chairman's Message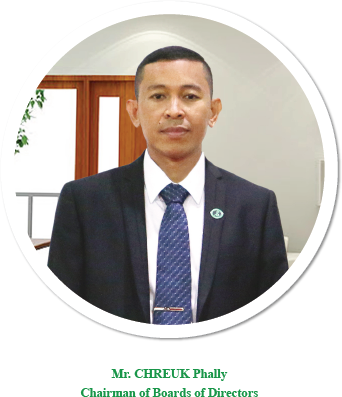 According to the World Bank forecast in December 2021, the Cambodia's Economic was only 2.2 percent growth. The lower figur was due to the outbreak of COVID-19 pandemic in the first quarter of 2021 especially the February 20 community event, which slowed down the Cambodia's Economic Growth. The outbreak of Covid-19 had a significant impact on wholesale and retail especailly tourism during the second and third quarters, but some sectors may still continue slowly including agriculture, garments and footwear, as well as agro-processing industries, especially food and furniture.

Banking and Microfinance sectors are still playing an important role which helps Cambodia's Economic Growth. Thus, the National Bank of Cambodia has mitigated some finance conditions on monetary policy implemented from May 2021 on maintaining the reserved requirement ratio at 7 percent until further notice, and allowed banking and microfinance sectors to continue conducting restructure loans until the end of 2021. According to the National Bank of Cambodia's Economic and Monetary Statistics by August 2021, there were 54 Commercial Banks, 10 Specialized Banks, 06 Microfinance Deposit Institutions, 79 Microfinance Institutions, 240 Rural Credit Operators, 17 Leasing Companies, 10 Audit Firms, 04 Third Party Processors, 28 Payment Service Providers, 1 Credit Bureau Cambodia, 06 Foreign Bank Representatives and 2,466 Foreign Exchange Traders. In the same period, as of August 2021, the general currency has increased to 150,188.6 billion Riels, with Net Domestic Assets of the banking sector of 90,138.3 billion Riels, and Net Foreign Assets of the banking sector 60,050.4 billion Riels. Based on the statistics, we notified that there would be more investment from both local and foreign investors in banking and microfinance sectors in Cambodia.

Although Cambodia's economic forecast for 2021 was expected to increase only 2.2 percent, but its sign also showed that there would be going to increase around 4.5 percent in 2022. The main factors which might facilitate the Cambodia's economic growing rate was due largely to the lower restriction on truism "reopening the country" by the government from November 1, 2021, and allowed business activities to start operation gradually, which made the social activities returning back to be normal including domestic travels and tourism. Moreover; the new introduced Law on Investment, the recent ratified Cambodia - China Free Trade Agreement and Regional Comprehensive Economic Partnership, and the recently signed Cambodia-Republic of Korea Free Trade agreement would be attractive more investors to Cambodia.

Due to the impact of the global COVID-19 pandemic in 2021, the Porfolio at Risk (PAR) of financial institutions have remarkably increased, including FUTABA Microfinance Plc., However, within the hard time, we could still keep our profit at USD 458,672. These positive results were from full participation of all staffs, especially credit team, who made effort to well manage and solve the issue on time.

On behalf of the Board of Directors, I would like to thank to our customers, our Japanese Shareholder, Chief Executive Officer, Assistant Chief Executive Officers, and all staff of FUTABA Microfinance PLC., for much contribution and support to implement and achieve of business strategic of the Company. Especially, thank to NBC for always providing support and coordination with our MFI in managing all activities with transparency up to now and in the future.
At the end, we would like to bless you and your family with happiness, wisdom, and be successful in all businesses and works for ever.